Issue #24 - The Future of Manufacturing
👋 Welcome to Issue #24 👋
Topics this time: Covid-19 impact on manufacturing, the disillusionment of offshoring and automation, and lots of growth rounds for manufacturing startups in Q2.

Hello and Salut! I hope you continue to be well and could navigate through all the challenges during the lockdown. Covid-19 is having a big impact on the manufacturing industry, and given how much has happened in the last three months, it feels ages that I have been writing the previous issue. This issue is quite a comprehensive piece of what happened during the previous three months, and I hope you enjoy reading it. The structure is the same, but I added some more personal opinions.
Disclaimer: thoughts and opinions expressed in the newsletter are my own.
---
What I've enjoyed reading
#CovidImpact_I#
📝 McKinsey published an interesting article about managing a manufacturing plant through the Covid-19 crisis. According to McKinsey, there are three guidelines that factories should follow, which are:
Protect the workforce. This is mostly about defining rules and standardized procedures to ensure the minimum distance and workers' safety. Overcommunicating these rules and procedures is critical in change management processes.

Manage risks to ensure business continuity. This underlines (again) that factories need to look into the resilience of their supply chains. Also, factories need to develop action plans if a worker is tested positively for a Covid-19 infection. You might have seen the negative headlines about Tönnies in the meat industry where they ignored this problem at the beginning, which now fires back.

Drive productivity at a distance. It's essential to encourage people who are not required on-site to work remotely as much as possible to protect the health of their shop-floor colleagues. That also means that companies have to invest in digital infrastructure and tools, which can be positive for some startups.
👉 Personal opinion: What I have heard from industry people is that a lot of factories have implemented very simple solutions to ensure the minimum distance between factory workers such as Plexiglas or even carton and duct tape. I think this is due to the uncertainty and limited budgets, so they rather wait and see before spending a lot of money unnecessarily.
A more sophisticated solution comes from the Munich-based company Kinexon that usually helps sports teams to gather valuable analytics and insights. It created a product called "Safezone" that warns users as soon as the minimum physical distance is compromised by using a wearable sensor (good article in German here). Among its customers is Henkel that has implemented Safezone in one of its facilities.

#CovidImpact_II#
📈 On the more positive side, startups that develop autonomous robots have seen a rise in usage and demand due to Covid-19. A few examples:
BrainCorp that develops AI solutions to automate robots saw a 13% increase in average daily usage of its Brain-powered fleet. Not surprisingly, the company raised an additional $36M Series D led by Softbank's Vision Fund.

Xenex develops robots to eliminate harmful bacteria and viruses and is getting lots of interest from hospitals and government agencies across the world. Its business is up by 500% from the beginning of the year, and they're on track to do more than $100M in revenue this year.

Simbe Robotics manufactures autonomous shelf-scanning retail robots that are deployed in many global retailers. Its robots have been pretty busy to make sure your favorite supermarket is not running out of toilet paper. The company is looking to deploy 1,000 more units over the next year. The robots looks like this: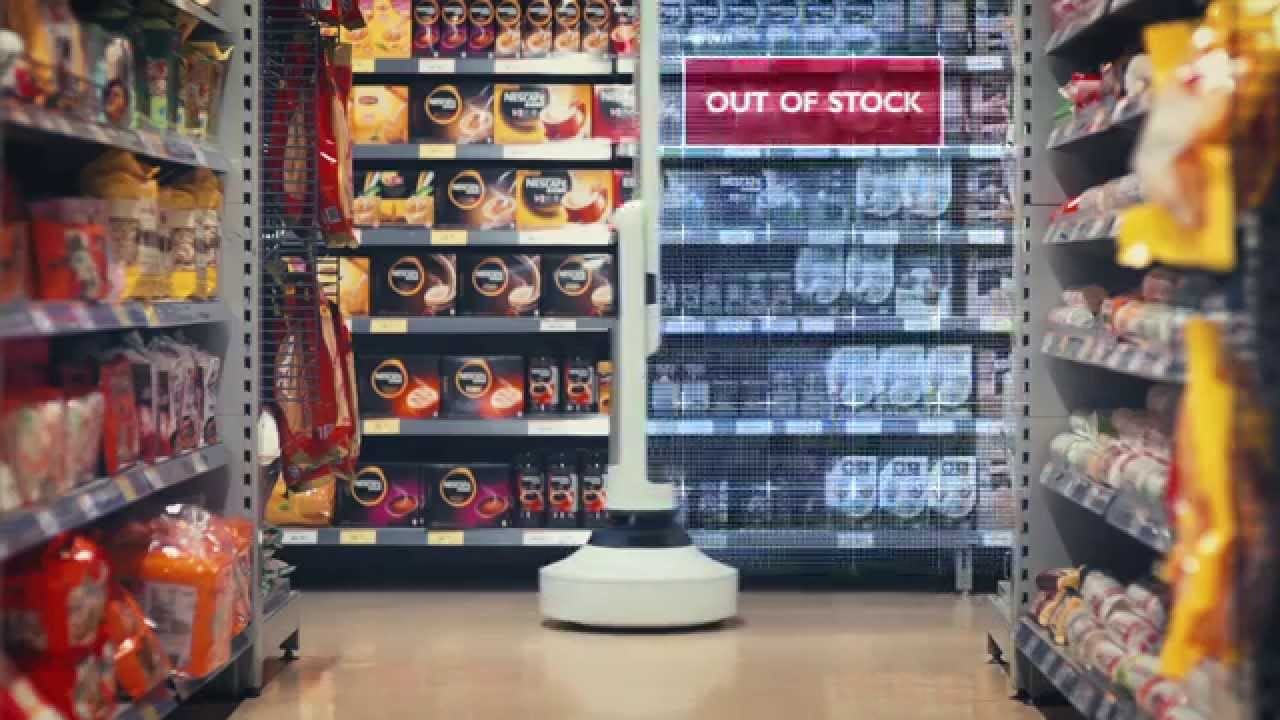 #CovidImpact_III#
💡 Thanks again to everybody who filled out our survey about the impact of Covid-19 on your business (and thanks for the excellent discussion👋). We got 39 responses, and the majority of participants thinks that the current effect is relatively negative (3.5) vs. the longterm view is slightly positive (5.5), see the results here: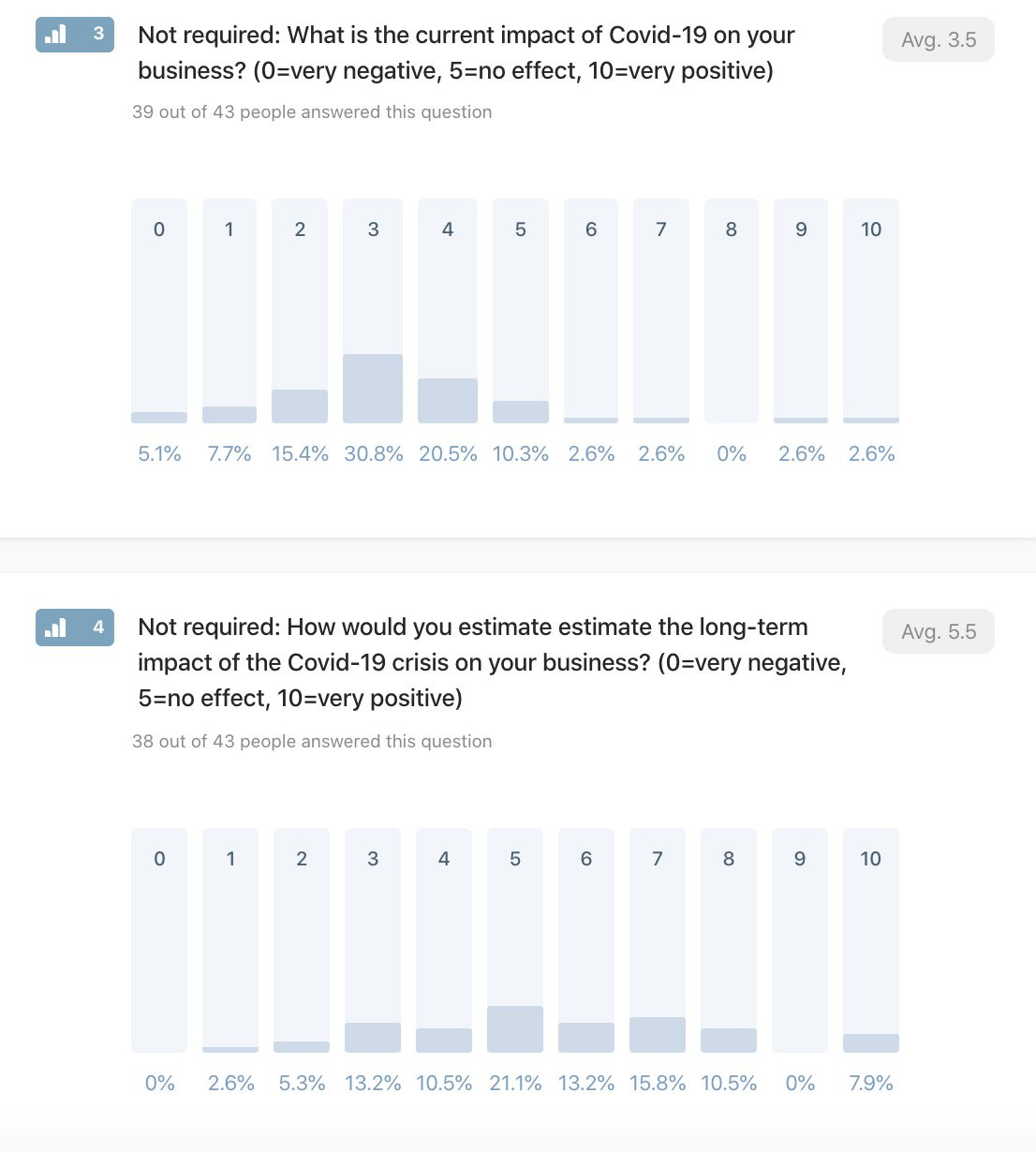 #Offshoring#
🏭 Many companies in Europe and the US have shifted production overseas in the past years, especially to China, so that we as consumers get cheaper products. Covid-19 has exposed the fragility of these complex supply chains, and the underlined the drawbacks of offshoring that led to a shortage of face masks when the pandemic hit Europe and the US. This article highlights the problems of offshoring and the implications it had when Covid-19 hit the US. In the US, it was particularly bad since 95% of surgical masks, and 70% of tighter-fitting respirators are manufactured overseas. As a response, US companies such as the automaker GM or Honeywell adapted parts of its facilities to produce face masks instead of cars or safety goggles.
👉 Personal opinion: I think Covid-19 triggers some companies to re-think if offshoring is the best and only way to operate. Therefore, we might see a shift of focus from efficiency to resilience, something I also wrote about in my post that Covid-19 is one more trigger event for companies to re-evaluate their supply chains.

#Automation#
🤖 Many of us, including Apple, continue to have the dream of "the automated factory." However, even after spending millions of dollars on automating its production, Apple has always reverted back to use humans instead of robots, and Apple's supplier Foxconn has made the same experiences. Some years ago, Foxconn thought it would use one million robots for its assembly lines, and it still doesn't use more than 100,000. This piece by AppleInsider gives you a bigger picture of the challenges Apple has faced when it comes to automating its production and what they have tried. These challenges include the lack of precision of the machinery compared to human hands for tiny screws and glue or exception handling if the machines stop working. Since Apple is redesigning its hardware, they also need to redesign the automation every year, which is an additional challenge.
👉 Personal opinion: Apple is a great example that underlines once again, how hard it is to automate production fully. This is one of the reasons why I'm very excited about tools that help factory workers to be more efficient with their work, and that can increase the overall productivity. We see an increase in automation within factories, but I'm convinced that humans won't become obsolete in factories anytime soon.
---
About industrial Startups and Companies
#Fundraising_I#
🤑  I already mentioned the increase in demand for autonomous robots and automation due to Covid-19, which has led to a few bigger investment rounds in the past few months. Besides the $36M Series D at BrainCorp, Locus Robotics raised $40M for its bin-moving robots, Arculus raised $16M for its modular production platform, and Covariant also raised $40M led by Index Ventures for its AI solution that enables robots to see and act autonomously.
👉 Personal opinion: It's pretty impressive that Covariant has been able to secure such a big round where some of its competitors such as NoMagic and Osaro have raised significantly less money in the past. So it's going to be very interesting to follow the journeys of all these companies and how they will develop. Making robots more intelligent is such a big topic that I think we can see several winners in the space and the amount of money raised is not necessarily the best predictor of success.

#Fundraising_II#
🤑 Germany-based Wandelbots has secured a $30M Series B led by 83North with the participation of Next47 (Siemens venture arm) and M12 (Microsoft's venture arm). Wandelbots has developed a device called TracePen that allows humans to program robots to perform specific tasks without any coding (buzzword "no-code"). Wandelbots can speed up the time to program robots dramatically and makes it easy for everybody to do it - while in the past, programming a robot usually took a lot of development time and could only be done by experts. The company counts VW, BMW, and Infineon to its flagship customers. The CEO of Wandelbots underlines that Covid-19 is leading to a trend of reshoring and that automation is a natural consequence for developed countries to make reshoring successful. If you want to understand why Paua Ventures invested in Wandelbots in the Series A, they summarized their insider view of the company here. The picture below shows you how the TracePen looks like.
👉 Personal opinion: the TracePen - that reminds me of the Apple Pen - can be a game-changing moment for the company. The company initially started by offering a jacket to program the actions of robots, and while this is already interesting, I think having a pen is much more interesting. People are used to writing with a pen, so it feels much more natural to use a pen to perform the tasks rather than putting on a jacket.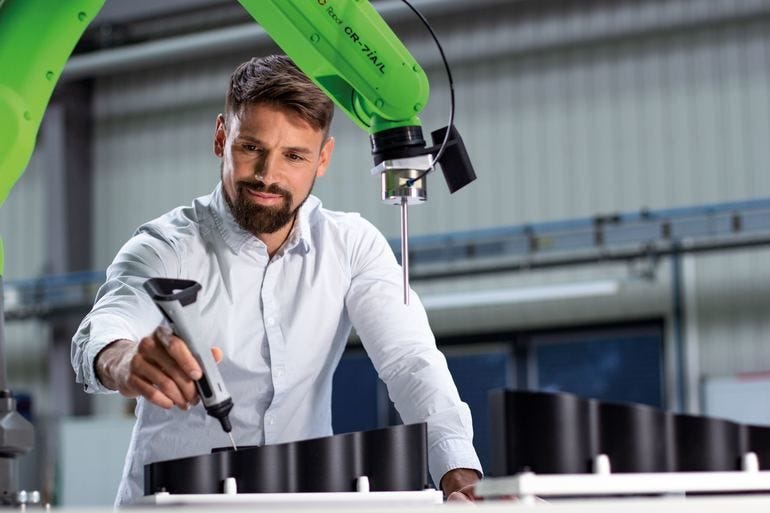 #Fundraising_III#
🤑  Scandit is known for its barcode scanning platform that leans on computer vision and announced its $80M Series C led by G2VP. Besides the barcode scanning functionality, the software is leveraging OCR to read a text, reference numbers, prices, and other relevant information. Scandit is another example where Codvid-19 has a positive impact since the pandemic has made mobile self-scanning even more critical to ensure fast checkouts, click and collect, as well as last-mile delivery solutions. Notably, the company got started in 2009 and underlines once again that there are no "overnight successes" in manufacturing, big things take time :-)

#Fundraising_IV#
🤑 Drishti that counts a16z and Emergence already to its investors, has raised $25M led by Sozo Ventures. Drishti's software uses computer vision to digitize and analyze human actions on the shop floor. The data helps factories to understand better how to increase efficiencies and discover bottlenecks. Interestingly, the founder mentioned that "Manufacturing is the most unsexy space for anybody to be in […] Silicon Valley has walked away from manufacturing for the last 20 to 25 years". So you're not the only one if you think fundraising for your startup is very hard.
👉 Personal opinion: It still sounds quite magical to me how this works, and I wonder if it's not a bit too futuristic for some companies? I hope they will be able to find the early adopters and manage to grow from there. Given the strong privacy concerns in Europe and especially Germany, it makes sense for the company to focus on North America so far.

#DesignAward#
🏆 It's incredibly challenging to receive an Apple Design Award, and who would have thought that one out of eight developers that got the recognition for outstanding app design comes from manufacturing? Huge congrats to Istvan and the whole Shapr3D team (*p9 is an investor) for being selected as a 2020 Apple Design Award winner. If you don't know Shapr3D, it's a powerful CAD app for the iPad that lets you intuitively design parts and visualize concepts on the iPad.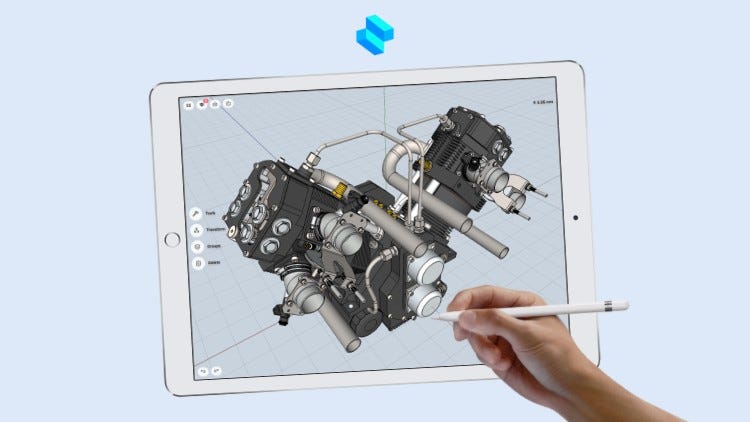 #BusinessModelInnvoation#
📊  Bright Machines that is automating assembly lines announced a $50M Factory Resilience Fund. The program helps its customers to defer payments until 2021 and defers payments for the first three months after the solution passes a factory site acceptance test. Customers need to enroll in a three-year contract though to participate in the program.
👉 Personal opinion: This is quite a radical move to keep the current customer base and comes with a lot of risks. But it also can help the company to decrease the barrier of adoption and to decrease the high upfront  capital expenses customers usually need to pay when they want to work with Bright Machines. Very interesting to see how this will work and what impact it can make.
---
Additional thoughts on recent development
On B2B Marketplaces
If you read up to here, you realized that I wrote a lot about the impact that Covid-19 has on the manufacturing industry and supply chains. I've been spending a lot of time on supply chains since I think the re-assessment of supply chains due to Covid-19 is a big opportunity for B2B Marketplaces. If you want to learn more about this, I summarized my thoughts on how B2B Marketplaces are changing procurement in this blogpost here. I also did an interview with Bowery Capital about B2B Marketplaces that you may find interesting.

Industrial Landscape #landscape#
There are now in total 350+ companies in the landscape and more to come soo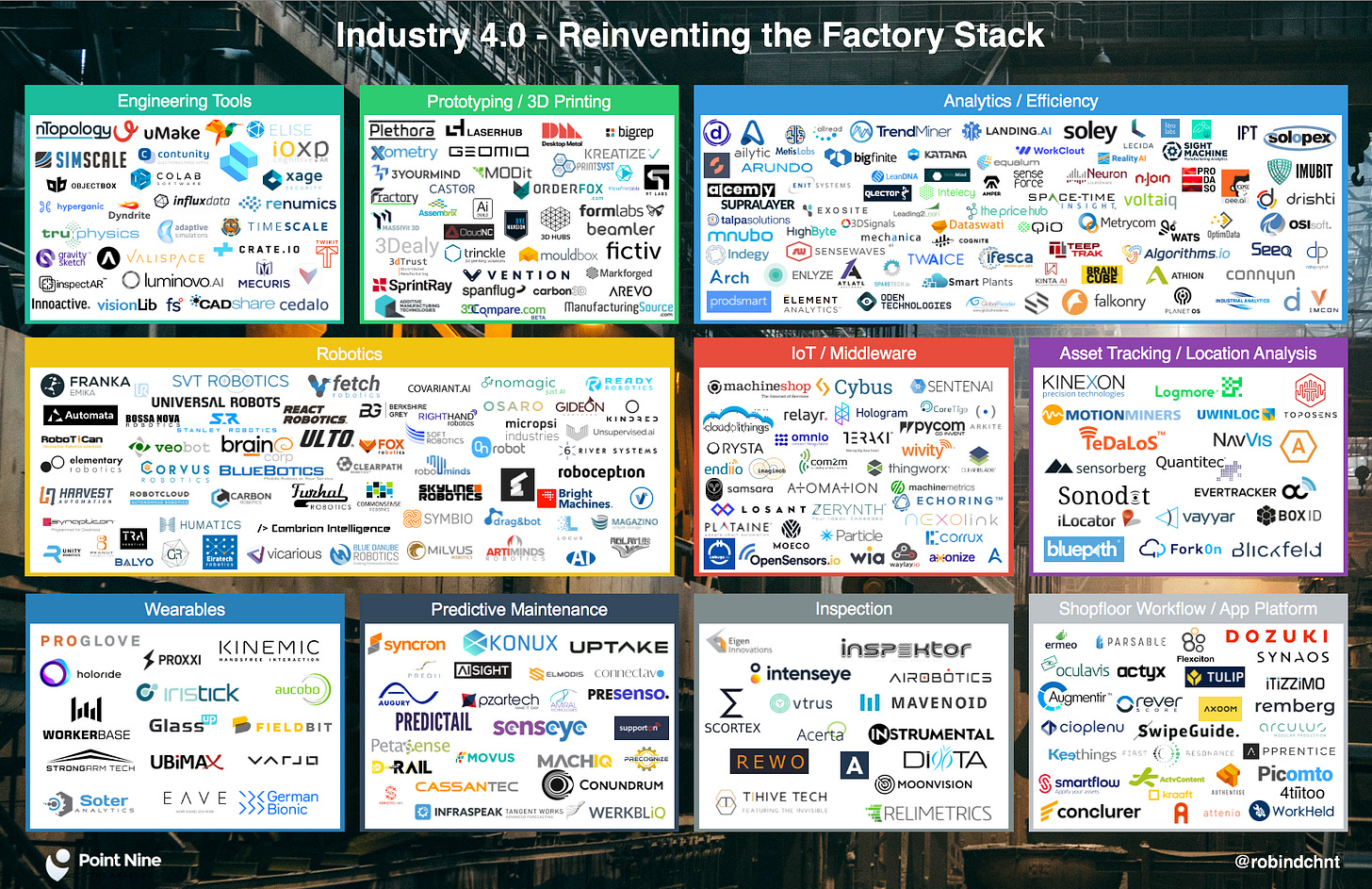 ---
Again, Thanks to everybody for supporting this newsletter and for sending me interesting links. As always, any input, shares, and feedback are still warmly welcome 🙏
Robin